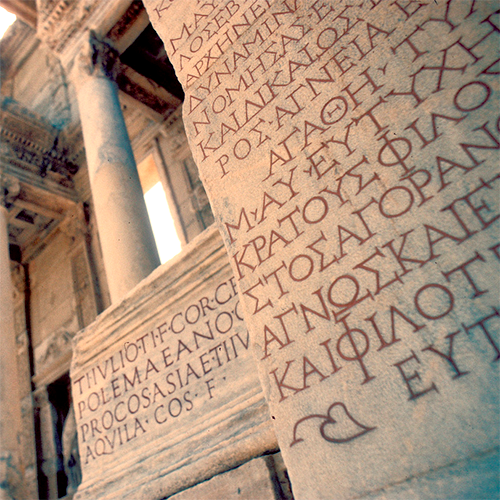 Discovering the truth about Native Americans definitively not being related to the ancient Jews was like yanking out one of the bottom cards in a giant house of cards. It made the Church's foundational claims about the Book of Mormon being an ancient book extremely wobbly and unstable. I took a serious look at the text of the book, specifically at things that had never made sense to me.
For example, I had always been bothered by items mentioned in the text of the Book of Mormon that I knew from my study of history did not fit with what scientists had known about the area. Things that were invented or developed after the time being portrayed. These are called anachronisms, which simply means things that are "out of time" from when the text of the book was supposedly written.
In a linguistics lecture delivered by Richard Packham about anachronisms, he described a scenario about finding George Washington's lost journal. At first it seemed genuine, but upon closer examination it contained references to objects and language the did not exist during Washington's time, which called its authenticity into question. I will paraphrase it here:
Applying the same level of criteria to the Book of Mormon, it was literally riddled with the mention of objects that did not exist at the time it was supposed to have been written. It was awash with words and phrases from languages that would not even exist until hundreds of years later. It contained hundreds of mistakes that only existed in books written in the 18th and 19th century that had been plagiarized into the Book of Mormon.
It also had significant grammatical errors in King James style English. I applied the same logic as I did with George Washington's so-called journal. Here was the Book of Mormon, which was supposed to have been written/compiled between 2200BC and 400AD. And yet here were all these things mentioned that did not exist at the time period in question. Some of which had never existed in the Americas until Columbus arrived in 1492. What was I to make of that?
Location Names Were Taken from Places Nearby
One of the key turning points in my research was discovering that many names of places and people referenced in the Book of Mormon, were places in New England during Joseph Smith's exact time period. These facts are difficult to sweep under the carpet of "coincidence".
Book of Mormon place names compared to actual Northeast US/Southeast Canada place names
Actual Place Names
Book of Mormon Place Names
Alma
Antrim
Antioch
Boaz
Hellam
Jacobsburg
Jerusalem
Jordan
Kishkiminetas
Lehigh
Mantua
Moraviantown
Noah Lakes
Oneida
Oneida Castle
Rama
Ripple Lake
Sodom
Shiloh
Sherbrooke
Alma, Valley of
Antum
Ani-Anti
Boaz
Helam
Jacobugath
Jerusalem
Jordan
Kishkumen
Lehi
Manti
Morianton
Noah, Land of
Onidah
Onidah, Hill
Ramah
Ripliancum, Waters of
Sidom
Shilom
Shurr
CES Letter
Some apologists attempt to discredit the similarities by claiming the location of a couple of the places is slightly off. Nice try, apologists. That's like saying this car is not a Chevrolet because its parked in the wrong spot. The fact that the NAMES EXISTED is enough to raise a credible issue.
Remember that it only takes ONE anachronism to demonstrate that a book is fraudulent. Take another look at the previous list and draw your own conclusions.
Exmo: How I Killed the Mormon God, Chapter 10: Anachronisms of Objects & Language | ©2017 Aaron Case. All Rights Reserved.